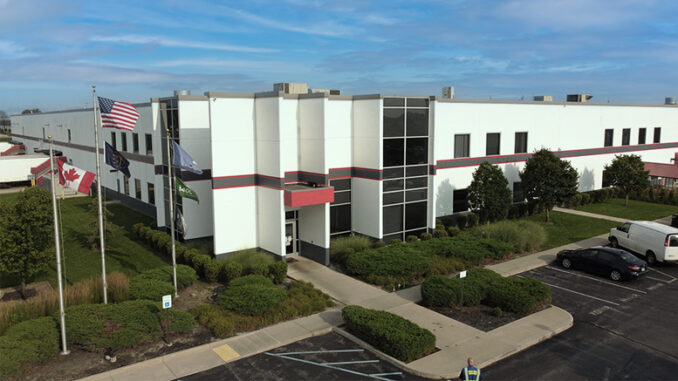 By Stacey A. Shannon—
Muncie, IN—Since opening in Muncie in 2006, Magna has become a solid part of the Muncie community and its economy. The company, which now comprises two buildings, continues to grow and thrive at the intersection of Cowan and Fuson Roads.
Josh Koons, lead quality engineer who has been with the company for more a decade, said Magna offers lots of opportunities for employees to better themselves. He started as an intern and has worked his way up through various positions.
"Magna empowers its employees to make changes in their career," Koons said. "Magna will provide any training necessary, both in the classroom and on the job. I have seen so many individuals succeed and better themselves throughout the company over the years."
One of those individuals is Scott Barnes, who has been with Magna  for 15 years and is now a lead operator. Barnes has had opportunities to pursue various promotions within the company.
"Magna encourages all employees to apply for promotions and offers schooling or training to help in achieving that reality," Barnes said.
Magna is a global mobility technology company, with more than 150,000 employees worldwide, however the Muncie locations retain a close-knit and personalized feel, and management strives to ensure employees feel connected and are able to grow.
"Magna has some very genuine, caring employees who care about each other and their families," said Mark Lines, employee advocate who has been with Magna for 15 years in a variety of positions. "I have never worked somewhere where the employees care about each other so much."
Lines pointed out the company has a unique Open Door Process that allows employees to talk with anyone in management, all the way up to the general manager. He also mentioned Magna  hosts company picnics and other events to include families. In 2019, the company opened walking tracks outside both its buildings to encourage wellness for employees and their families.
Along with taking care of their own employees, Magna finds ways to give back to the community through donations and charities. The company is committed to remaining a stable part of the Muncie community to provide jobs.
Operating with a teamwork mentality, Magna continues to grow and has job openings available in the Muncie location.
"Magna has proven its commitment to performance and durability to ensure there are jobs for the community and surrounding areas," Barnes said.
Koons added, "Magna moved into this area when the manufacturing outlook was bleak. We are now thriving and growing every day with stable work for many years to come."