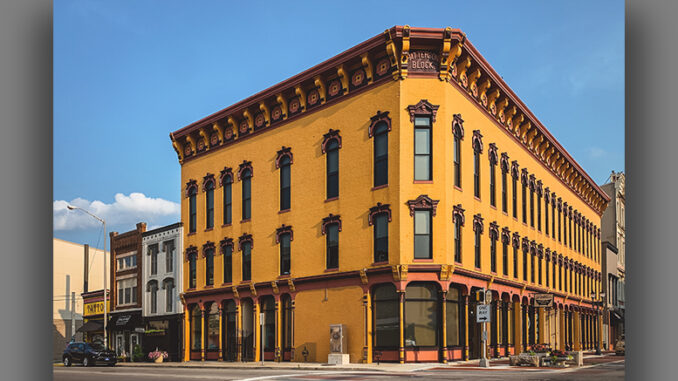 Editor's Note: The following is an excerpt of an article that appeared in the Winter 2022 Edition of Alliance Magazine, published by the Muncie-Delaware County Economic Development Alliance. A PDF of the entire article and full Winter 2022 Edition of the magazine can be viewed at the link at the very bottom of this article. 
MUNCIE, Ind.—The Muncie-Delaware County Visitors Bureau's move to South Walnut Street joins an eminent recreational facility at Accutech, and Patterson Block Muncie, a new community learning center with untold potential that's successfully breathing new life into a stately old downtown building.
Built in 1876 by Arthur Patterson, the Patterson building's 21,000 square feet have been almost completely renovated and are now owned by Ball State graduate Kimberly Ferguson, a local real estate investor who is active in several area non-profit organizations. Ferguson, a wife and mother of two young children, is also owner of the Patterson building's primary tenant, Pink Leaf: A Learning Company, whose mission is to "cultivate personal and community growth through experiential learning and enriching opportunities to forge new pathways to success."
Patterson Block Muncie hosted a grand opening on Aug. 5, welcoming the public to tour the modern work, retail, and learning spaces inside. While Pink Leaf programs occupy some of the Patterson, another portion is reserved for a few tenants – women-owned businesses that include Debbie's Handmade Soap, Sea Salt & Cinnamon, Bloom & Be: Therapy and Education Services, Runaround Soup, and Danielle's Bistro. City Hope Fellowship and Adopt-a-Hive also call the Patterson home.
Pink Leaf is an interesting part of the Patterson building's contents. Ferguson's company is aimed at helping people become self- sufficient in a rapidly changing world, where resources are sometimes limited or nonexistent.
Jen Cavalcanti, Pink Leaf's Director of Operations, said Patterson Block Muncie is really a cleverly disguised philanthropic organization that operates as a for-profit business. "We've been in business for 10 years doing experiential learning classes in Muncie," she told Alliance. "Until we relocated to the Patterson building, we were operating out of a small cottage in central Muncie. We didn't really have a public space, and so people didn't know we were around."
But, Pink Leaf was there, helping young people and adults become more self-sufficient by offering life skills classes like fundamental car maintenance, basic cooking, and home maintenance.
"We're definitely on a social mission," Cavalcanti said. "Kimberly is really passionate about giving back to community and she knows the value of her property tax dollars going back into the community when it was really needed."
It's that kind of civic-mindedness that identifies Pink Leaf as a true community partner.
A prime example of this community outreach effort is Pink Leaf's brand new commercial kitchen, featuring all the modern amenities. Coupled with the kitchen, which can be rented by private individuals or used as culinary instruction space, is Pink Leaf's roster of certification courses which are taught there. Among them is ServSafe, the restaurant and food service industry's nationally recognized and accredited food safety training program. Together, The Commercial Kitchen by Pink Leaf and Pink Leaf's own ServSafe certification program can help residents acquire jobs in the food service industry, or enhance the qualifications of entrepreneurs looking to start catering businesses, restaurants, or food trucks.
The Commercial Kitchen also serves as a culinary arts classroom for the general public. Classes aren't free, but a variety of cooking classes are available, including "Soups & Stocks", "Thanksgiving Sides", "Thanksgiving Desserts",and more. Knitting and sewing classes are also available, with no class costing more than $75.
Other certifications classes include CPR/AED and First Aid.
Pink Leaf is also active in the local foster care community, contracting with the Indiana Department of Child Services (IDCS) to administer the National Youth in Transition Database (NYTD) Youth Outcomes Survey and disburse incentives.
"These surveys are completed by cohorts of older youth in foster care at ages 17, 19, and 21, to gather data about how they are doing in regard to education, housing, finances, family, and employment," the Pink Leaf website says. "The NYTD Crew at Pink Leaf comes alongside these young adults from ages 17-21, connecting them with support by way of resources, community, events and opportunities to share how their story interacts with previous data from the NYTD Youth Outcomes Surveys."
Pink Leaf "Bootcamps", services contracted through IDCS, are another educational tool the company uses to help people become more self-sufficient.
Bootcamps are two- to five-day hands-on learning classes where participants practice new skills, explore potential career paths, build confidence, and create lifelong networks of peers, experts and prominent community members. All Pink Leaf bootcamps have the ultimate goal of equipping young adults for successful and sustainable independent living and employment.
Taught by local experts in their respective fields, bootcamps, which serve as the trunk of Pink Leaf operations, range from culinary arts, building trades and car maintenance, to computer coding, life skills, kitchen basics, and of course, ServSafe.
Cavalcanti reflected on her job at Pink Leaf and chuckled. "It's so refreshing to be part of a company that lives by its mission – taking care of people, helping people move upward to the next level of their life. I don't think that's very common in today's work places, so it's a real gem.
—End of excerpt.—
You may view the entire article and view the full Winter 2022 Edition of the Alliance Magazine, by clicking
http://www.munciejournal.com/wp-content/uploads/2022/01/2022Alliance_winter2022_FINAL.pdf