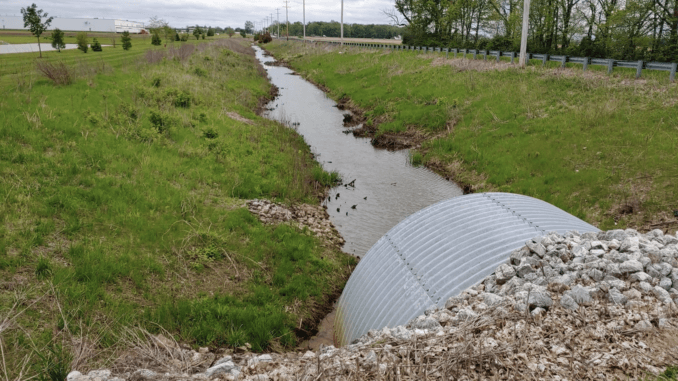 By Keith Roysdon—
DELAWARE COUNTY, Indiana – Environmental testing surrounding a Delaware County industrial park, which has seen decades of industrial activity, did not reveal the presence of area-wide contamination above health protective standards for residential areas.
Testing surrounding the Industria Center industrial park, conducted by Mundell & Associates Inc., working for the Delaware County commissioners and Delaware County Redevelopment Commission, has been underway for more than two years and Mundell has released its latest report.
"All of this was done on behalf of the county, but in response to concerns of citizens there based on the long history of industrial activity in the area," said Luke Johnstone of Mundell regarding the latest phase 2 environmental testing.
"This program is one of the first I know where there's been a joint effort between the county, gaining input with citizens and monitoring the area jointly," John Mundell said. "We see this as a model going forward of working with the citizens of a community. The county is showing foresight in protecting their citizens."
The first phase of Mundell's investigation came in 2020 and included input from neighbors of the 1,000-acre-plus industrial park and developed plans for sampling of soil, air and water on and around the site.
The second phase, which is the subject of the new report, includes the results of eight days of testing from October 2021 to April 2022 on parcels that included 43 private properties.
Thirty-six soil samples were taken, three surface water samples, six sediment samples and 20 private well and groundwater samples.
In the southwest drainage basin and area surrounding a former landfill, the testing did not reveal the presence of area-wide heavy metal contamination, no volatile organic compound (VOC) contamination and no downstream leaching or migration.
The sampling plan to test for historic atmospheric deposition did not reveal the presence of area-wide heavy metal contamination above screening levels, although lead trended above background levels but still appeared generally below residential screening levels and comparable to other cities. Soil testing can reveal the presence of lingering impacts from historic atmospheric heavy metal releases because they can settle in the soil.
In seven of 20 residential wells tested so far, lead was detected above residential screening levels, which could be attributed to groundwater corroding the pipes of residential well water systems, but further testing and data will be done to confirm.
The Mundell study recommended further investigation, including private well groundwater sampling, community outreach and ongoing monitoring and remediation.
"With regards to surface soil lead results, all the results were generally below human health exposure limits for residential, but we did see some trends with lead," Johnstone said. "What we found is that to the northwest, southwest and southeast, lead in soils away from major roadways was comparable to what is found in rural Indiana.
Mundell noted that too little attention can often be paid to the water quality found in residential wells. "People who grew up in rural settings across the country don't often think about servicing the pumps and piping systems found in their wells," he said. Lead-containing plumbing and mechanical parts supplied decades ago sometimes cause elevated concentrations in the water from those wells.
Mundell and Johnstone said that in the coming months, there will be more testing on homes where lead was found in residential wells.
"The next phase is important and kudos to the county for recognizing this is an issue to get a handle on it," Mundell said.
Local citizens were informed about the findings once tests were done.
The Delaware County commissioners and Delaware County Redevelopment Commission recognized the importance of continuing to look for signs of contamination.
"It's a part of our responsibility to our citizens to make sure they're safe," said James King, president of the Delaware County Redevelopment Commission and a Delaware County commissioner. "Testing of former and current industrial areas to ensure the health of our constituents is an important part of what we do."
A link to the findings can be found at: https://www.ecirpd.org/services/projects/
About Delaware County Economic Development
Dynamic and forward-thinking economic development is the specialty of Delaware County, Indiana. In 2015 the Delaware County Commissioners privatized the County's economic development activities. Since that time, the County has developed its own business retention and expansion programs that are in constant contact with the multitude of industry within the County.  In addition, efforts to identify and attract various suitable industry throughout the world are undertaken on an annual basis.  For more information, contact Brad Bookout at bbookout@augustaconsultingllc.com.