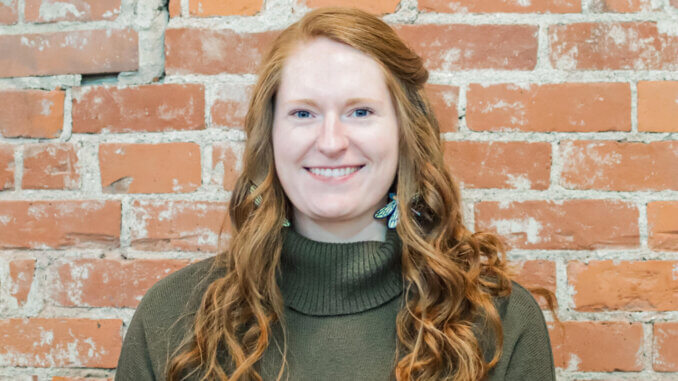 By Andy Shears—
MUNCIE, IN – Muncie Map Co., the premier cartography studio and online store known for its custom maps, historic visuals, and Muncie-themed merchandise, is delighted to announce the addition of Sarah King as a Sales and Customer Relations Specialist. With a strong passion for the Muncie community and local businesses, as well as a background in the arts, Sarah is set to significantly enhance the customer experience at MMC and contribute to the company's future growth.
Sarah, originally from Carmel, made her way to Muncie to attend Ball State University, where she majored in Directing and Technical Theatre. Her special interest in props and scenic design, including her work on a stop-motion short film entitled "Two Soles," showcases her creative talents, which will contribute to MMC's commitment to high-quality custom products. Sarah's previous work experience at the Downtown Farmstand and our local Target has equipped her with valuable customer service skills and a strong connection to the Muncie community.
In her new role, Sarah will focus on sales and client relations, providing a personalized and attentive touch to every customer interaction. Her passion for supporting local businesses and community engagement aligns with MMC's core values, making her an ideal addition to the team. Sarah will also play an active role in MMC's outreach efforts, representing the company at local events and fostering connections with the Muncie community.
Muncie Map Co. is excited to have Sarah King join the team, confident that her passion for the Muncie community, dedication to excellent customer service, and creative background will play a pivotal role in the company's ongoing success.
About Muncie Map Co.
Muncie Map Co. is a leading cartography studio and e-commerce business based in Muncie, Indiana. The company specializes in designing custom maps, producing historic visuals, and crafting Muncie-centric merchandise that fosters a deep connection to place and identity. Since its inception in 2017, MMC has been dedicated to serving the Muncie community and providing exceptional products to its clientele.
For more information about Muncie Map Co., please visit munciemap.com or follow us @munciemap on Facebook, Instagram and Tiktok.