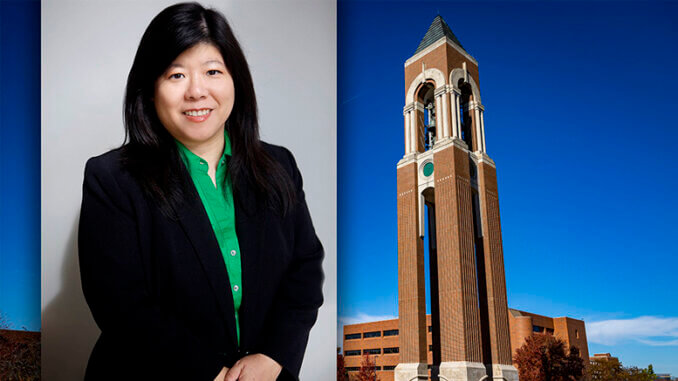 By BSU Marketing & Communications—
MUNCIE, IN – Margaret Lo will join Ball State University as chief sustainability officer, effective March 6, Alan Finn, vice president for Business Affairs and treasurer, announced.
In this newly created position, Ms. Lo will be responsible for implementing a University-wide centralized sustainability organizational structure, focusing on educating, nurturing, and promoting sustained collaboration across all academic and operational units.
"We are excited to bring Margaret aboard to provide institutional leadership and support as we expand upon our University's culture of collaborative sustainability," Mr. Finn said. "At Ball State, in line with the imperatives set forth in our strategic plan, we are committed to being good stewards of our resources and the environment. Margaret's experience will be a great asset to promote the principles of environmental, social, and economic sustainability throughout campus."
Ms. Lo was most recently the Director of Business Engagement at the Institute for Market Transformation. She has over 15 years of sustainability experience in the private, non-profit, and academic sectors. Her higher education experience includes positions as the Sustainability Director at George Mason University (Mason) and the sustainability lead at the University of Central Florida (UCF).
"It is a great honor to be selected to serve in this inaugural role at Ball State University," Ms. Lo said. "It was exciting to learn about Ball State's dedication towards sustainability through the interview process. I am grateful for the opportunity to leverage and build upon the University's efforts to protect and enhance the environment through its learning, scholarship, service to the community, and administrative operations."
While at Mason and UCF, Ms. Lo directed high-impact sustainability initiatives, including: infrastructure improvements; marketing and communications campaigns for behavioral change, signature events, and volunteer days; and the creation of a university Climate Action Plan, energy and recycling policies, green building standards, and sustainable procurement guidelines.
In addition, Ms. Lo led the compilation, data analysis, benchmarking, and reporting efforts of university-wide environmental, social, and governance progress, including greenhouse gas emissions inventories, the United Nations' Global Compact, and the Sustainability Tracking, Assessment, and Rating System (STARS) report.
Ms. Lo's professional experience in sustainability and conservation also includes roles at ICF, where she served as Senior Manager of commercial energy efficiency and at The Nature Conservancy, where she served as Corporate Partnerships Manager to Fortune 500 companies.
Ms. Lo earned her Master of Business Administration from the University of Michigan, and her bachelor's degree in management from the State University of New York at Binghamton. She also earned certifications in Sustainability in Existing Buildings, Leadership in Energy and Environmental Design (LEED), and Leadership Coaching in Organizational Performance.
About Ball State
Founded in 1918 and located in Muncie, Ball State University is one of Indiana's premier universities and an economic driver for the state. Ball State's 20,000 students come from all over Indiana, the nation, and the world. The 790-acre campus is large enough to accommodate first-rate facilities and 19 NCAA Division I sports, but our welcoming and inclusive campus is small enough to ensure the friendliness, personal attention, and access that are the hallmarks of the University. Destination 2040: Our Flight Path establishes Ball State's ambitious goals for our second century. We Fly!