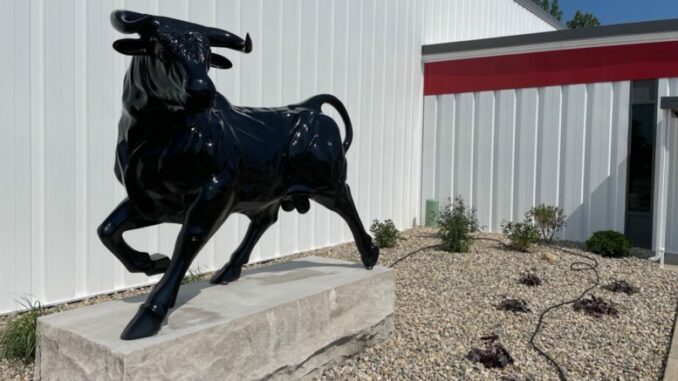 By Keith Roysdon—
DELAWARE COUNTY, IN – Thanks to the company's name, the officers and employees of Taurus Tool and Engineering say that their unofficial motto is, "We're no bull when it comes to quality."
Company president and co-owner Jim McDonald noted that the tool-making company, which offers contract machining work like CNC turning, milling and fabrication, recently marked its new location in Delaware County with the installation of a five-feet-by-eight-feet statue of a bull near the entrance.
The statue is whimsical in nature and might become a local landmark outside the building. But inside Taurus Tool's new facility, the company is growing, providing job security to its 30 employees, planning to add more workers and expanding its line of services with water-jet functions as part of its metal cutting services for industries ranging from food packaging to aerospace.
"This is a new product for us, a new opportunity," McDonald said about the water jet apparatus. "Water-jet machines are extremely cost effective. You can cut a shape out of a plate (of metal) up to eight inches in thickness."
The company's addition to its products and services goes with its new 66,000-square-foot building at 4401 S. Delaware Drive. The company's operations moved to the new building in April and quickly found benefits from the expansion from 24,000 square feet of space in its former facility, which will now be used by Filtrec, a maker of industrial filters.
Taurus Tool marked 50 years in business in June. McDonald came to work at Taurus in 2004 and was manager before he and his wife came to an agreement to buy the business in 2010.
Taurus Tool, the 2017 Prototype Supplier of the Year Award winner from BorgWarner Automotive, is successful in keeping its product lines diverse, McDonald said. Products for food-packaging equipment makes up about 30 percent of Taurus' business. The company's aerospace contracts are for brackets for hanging jet engines on an airframe, which makes up about 15 percent. About 40 percent of Taurus' business is in the automotive industry, with customers like BorgWarner, Chrysler and Magna.
"We have a company philosophy that no one ever gets to be more than 15 percent of our business," McDonald said. "That lets us ride changes in the market."
Taurus Tool designs and builds special machinery, gauges and tooling and the company maintains and repairs parts.
With the larger facility and the new water-jet machinery, McDonald said he hopes to add up to five people to the workforce. While McDonald said that workforce challenges are real, "We've seen if an employee is onboarded and stays two years, they're going to be an employee for years to come. We have 15 to 20 years of longevity with this workforce."
McDonald credited the Delaware County commissioners and their director of economic affairs, Brad Bookout, for "absolutely" playing a role in the sale of their former building to Filtrec, freeing Taurus Tool to move into its new, larger space.
"The county is doing a wonderful job," he said. "You've got a wonderful group selling the community."
McDonald said it was "important to know that we run a business that is really based on family trust and values. Every employee out here is like family to the management group." When he bought the company, McDonald said, he understood that giving back to his employees by creating and maintaining good jobs at a good company was "my giveback to retain those employees and grow the company."
"We're successful because we deliver high-quality products to our customers. Everyone that works here understands that."
"Taurus Tool & Engineering has been part of Delaware County for 50 years, and the company's new location and commitment to its customers and workforce leads me to believe they'll definitely be around for many more years to come," Commissioners President Sherry Riggin said.
"We're always pleased when a longtime local company grows, so it is really exciting to see Taurus Tool & Engineering not only find a new facility and a new product to offer, but also add to its workforce," Commissioner Shannon Henry said.
"Taurus Tool & Engineering is such an asset for Delaware County. They're a growth-minded employer that provides great job opportunities," Commissioner James King said. "It's wonderful to see all they are doing and their logo is definitely a testament to the company's strength."
"Delaware County was very pleased to be able to play a role in making this move by Taurus Tool & Engineering possible," Bookout said. "It's truly a win-win scenario to find a new and improved home for Taurus and a new and improved home for Filtrec."
About Delaware County Economic Development
Dynamic and forward-thinking economic development is the specialty of Delaware County, Indiana. In 2015 the Delaware County Commissioners privatized the County's economic development activities. Since that time, the County has developed its own business retention and expansion programs that are in constant contact with the multitude of industry within the County.  In addition, efforts to identify and attract various suitable industry throughout the world are undertaken on an annual basis.  For more information, contact Brad Bookout at bbookout@augustaconsultingllc.com.