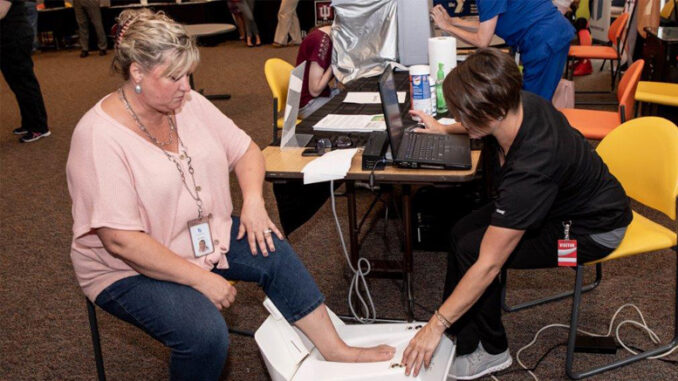 By: Stacey Shannon—
Muncie, IN—Since August 2013, Cover-Tek in downtown Muncie has been providing health and wellness services to local residents in a variety of ways. Lindsey Staton, who is the office manager, said Cover-Tek works with numerous local companies and is also open to the public.
Cover-Tek offers a wide array of services, including lab testing, flu shots, vaccines and B12 shots as well as classes in CPR, first aid and bloodborne pathogens. While most services are offered on a walk-in basis in Cover-Tek's office at 926 W. Main St., the company also works onsite with various local businesses to take care of lab work, host health fairs and set up flu shot clinics.
Though Cover-Tek does medical testing, it is different from other labs in that it doesn't require a doctor's order to perform tests, so it also doesn't work with insurance. Staton said, however, that Cover-Tek has low prices and works quickly. B12 injections, for example, cost only $12.
"We're very fast," Staton said, pointing out that most clients are in and out within 10 to 15 minutes. "We're a benefit to Muncie because we offer such a wide range of services."
The employees also help the business run smoothly and maintain good customer support with both corporate and private clients. Staton said the staff is comprised of medical assistants and Registered Nurses who all love their work. Cover-Tek offers additional training and certification for the employees to continually grow and learn.
"We are a one-stop shop for a lot of companies," Staton said. "We offer a huge range of services. We're doing really well. Companies are happy with us."