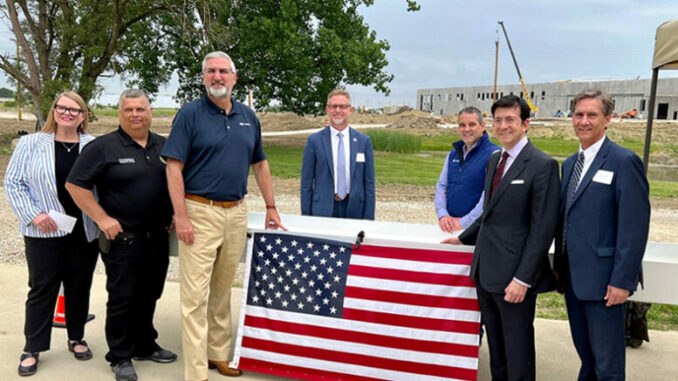 By CANPACK Group—
MUNCIE, Ind. – CANPACK commemorated the completion of the steel framing for the new 862,000-square-foot aluminum beverage can manufacturing plant during a Topping Off ceremony with Indiana Gov. Eric Holcomb and local community officials and leaders. The future plant will be home to approximately 345 well-paying, local jobs.
The dignitaries, Mr. Peter Giorgi, President and CEO of Giorgi Global Holdings, owner of CANPACK, and the Blue Rock construction team signed the steel beam before it was hoisted into place amid a backdrop of celebratory music. The beam marks a significant construction milestone for the property since its groundbreaking in September 2021. Officials expect construction to be completed in time for plant operations to begin in the fourth quarter of 2022.
"It's an exciting time to be in Muncie to celebrate the construction milestone of CANPACK's second US-based, state-of-the-art manufacturing facility," said Peter Giorgi. "We appreciate the warm welcome and look forward to becoming an integral part of the Muncie-Delaware County community and contributing to the remarkable business environment that exists throughout the state."
CANPACK announced plans in May 2021 that it would invest $380 million to build its second aluminum beverage can manufacturing facility in the United States, creating the local jobs by 2023. The facility is located on 139 acres of land on the southwest corner of South Cowan and West Fuson Roads in Monroe Township in Muncie.
"We began moving dirt and setting the stage less than a year ago, and we are making great progress," CANPACK Regional Manager Tom Johnson said. "We are grateful to Blue Rock Construction, the trade workers and local contractors for their continued hard work as we make steady progress toward opening the plant later this year."
CANPACK will host a series of job fairs the next several months. Interested candidates are encouraged to visit the website to learn more of open positions: https://us.canpack.com.
Click here to view aerial footage of the beam topping filmed by Tylonius Studio, Inc.
Related article below
About CANPACK and Giorgi Global Holdings, Inc.
CANPACK, part of the Giorgi Global Holdings, Inc. is a global manufacturer of aluminum beverage cans and packaging solutions for the food industry, as well as glass bottles and metal closures. Headquartered in Krakow (Poland), the company employs nearly 8,500 people worldwide and has operations in 19 countries.
GIORGI GLOBAL HOLDINGS, INC. is a global holding company with its operational headquarters in Blandon, Pennsylvania and with operations in the agricultural, food and packaging sectors employing approximately 11,000 employees in 20 countries.
For additional information visit: