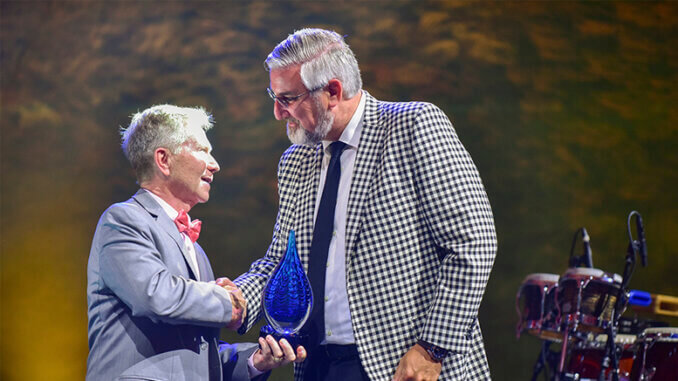 By Hannah Dunckel—
 MUNCIE, IN – Hank Milius, who transformed a community mental health agency, into one of the state's fastest growing and most impactful integrated healthcare organizations, is retiring.
A national search is underway to select a successor to Meridian Health Services President and CEO, who will retire at the end of 2023, after 21 years of service.
Milius joined Meridian in May 2002 at its corporate headquarters in Muncie, Indiana. Under his leadership, Meridian extensively expanded and rebranded. He became CEO when it was Comprehensive Mental Health Services in 3 clinics with 200 employees, 3 medical staff serving 5,000 patients and $20 million in revenue.
Through Milius' visionary leadership and with the changing landscape of health care, he knew that a transformation of the organization would need to occur to better position it for success. "Whole-person" health was a concept that Milius believed in and pioneered, creating a new culture of treating the body and mind together for optimal health. The integration of primary medical care services with behavioral health to serve patients created a transformation. The organization was renamed to Meridian Health Services and introduced a broad spectrum of medical services including family medical care, pediatrics, internal medicine, obstetrics, gynecology, dental, pharmacy, and more.
Today, Meridian is one of the leading providers of integrated health services in the industry. Meridian employs 1,100 staff including over 60 medical providers, and serves 40,000 patients across more than 50 facilities with $150 million in revenue. Meridian's spectrum of services include nearly 30 different types of programs for physical, mental, and social well-being. Milius believed in offering patients seamless integrated care. It became the first behavioral health center in Indiana to offer primary medical care.
"Meridian Health has become the "whole-person" health home that our communities and patients know today," said Brent Webster, Chairman of Meridian Health Services' Board of Directors. "This is due in large part to Hank's commitment of making health care easily accessible for all people and treating the whole person at the forefront of medical practice."
Milius also directed Meridian during the global pandemic, quickly ramping up telehealth services and guiding physicians, clinicians, and staff to engage with patients remotely. Meridian set up access points across the state and provided thousands of free COVID-19 tests and vaccinations.
Under his watch, Meridian has become a community convener, leveraging its influence on policy and the public health agenda. Milius oversaw Meridian's significant growth in addiction services and has advocated for mental health issues. He was actively involved with the National Association of Psychiatric Health Systems when they successfully advocated for federal legislation regarding mental health parity.
Under Milius' leadership, Meridian used community engagement as a tool for education and advocacy. He created Rialzo, Meridian's annual premier charity gala. Since 2010, the charity gala has raised more than $1 million for its broad suite of healthcare programming.
Stemming from this, Meridian has hosted many community events throughout the state, and is especially known for their signature events such as Rialzo, Fam Fest Health & Fun Fair, City Fit, Holidays at Gresham, and their impactful Speaker Series offering town hall style conversations with national-level experts on tough topics like addiction and suicide prevention. All were designed to help address a community need and collaborate with key partners.
"I always said Meridian cannot do it alone; we could not be all things to all people," Milius said. "We are at our best when the communities we serve were in our corner, helping us create healthier communities."
Milius has been active in a variety of professional associations and is currently serving on the Indiana State Chamber Board, National Association of Behavioral Healthcare (NABH) Board, and the Indiana Hospital Association Council on Government Relations.
Before joining Meridian, Milius served within the healthcare industry in several states including Michigan, Missouri, and Alabama. He was President and Chief Executive Officer of Northwest Alabama Mental Health, and before that Executive Director of Arthur Center, a division of Audrain Medical Center in Missouri. He holds a bachelor's degree from Illinois State University and a master's degree from the University of Chicago Crown Family School of Social Work, Policy, and Practice.
Milius often quotes his favorite anthropologist, Margaret Mead: "Never doubt that a small group of thoughtful, committed citizens can change the world. Indeed, it is the only thing that ever has."
Learn more about Meridian Health Services at MeridianHS.org.
­­­
Meridian Health Services is a regional, progressive healthcare organization specializing in "whole-person" health, integrating physical, mental and social well-being to help people achieve their optimum health. Meridian serves 40,000 patients throughout Indiana offering a wide spectrum of healthcare specialties including: primary medical care, pediatrics, internal medicine, inpatient/outpatient psychiatry, obstetrics/gynecology, addictions and recovery, dental, children and family services, behavioral health and human services.