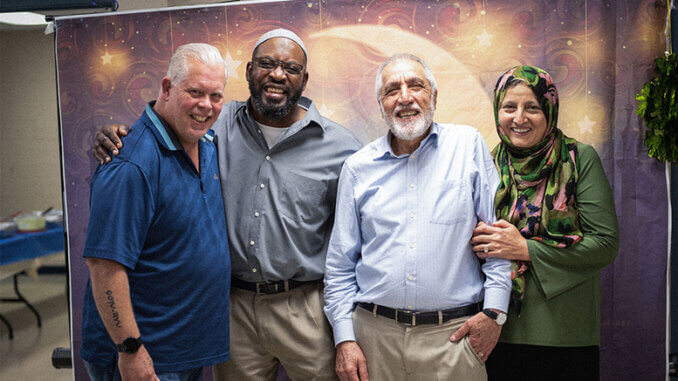 By Chris Flook—
MUNCIE, IN—The Academy of Motion Picture Arts and Sciences announced last week that Stranger at the Gate, a film featuring local Munsonians, was nominated for an Academy Award in the documentary short category. Stranger is up against The Martha Mitchell Effect, How Do You Measure a Year?, Haulout, and The Elephant Whisperers. The Academy presents the 95th Oscars on Sunday, March 12 at Dolby Theatre in Los Angeles. ABC will broadcast the award ceremony live.
Produced by Suzanne Hillinger and directed by Joshua Seftel for Smartypants, Stranger at the Gate tells the story of how Muncie's Muslim community unknowingly prevented a violent act of terrorism with welcoming love and kindness. The documentary explores themes of Islamophobia, PTSD, and domestic terrorism, but also the transformative power that religious communities can have for wounded souls.
Along with prominently featuring the Islamic Center of Muncie, Stranger at the Gate weaves together interviews from local community leaders Bibi and Saber Bahrami, Captain Kent Kurtz of Ball State's University Police, and Jomo Williams. Much of the story follows Richard 'Mac' McKinney, a former Marine from Muncie who, in 2008, planned to blow up the Islamic Center. However, "his plan takes an unexpected turn when he comes face-to-face with the people he sets out to kill," according to IMDB.com.
Stranger at the Gate was distributed by The New Yorker and later on YouTube. In addition to the Oscar nomination, Stranger won the Grand Jury Prize at the Indy Shorts International Film Festival last year and an audience award for Best Documentary Short Film at the 2022 Virginia Film Festival.
You can watch the entire 30 minute film by clicking the play button above.
You can also read Bibi Bahrami's op-ed about it in The Washington Post here.
Chris Flook is Senior Lecturer of Media, Ball State University and Newsletter Editor, Delaware County Historical Society