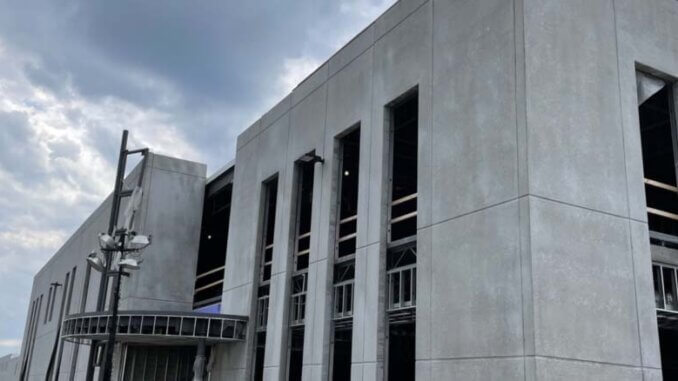 By Keith Roysdon—
DELAWARE COUNTY, Indiana – With a series of economic development announcements that is the envy of many communities, Delaware County is on a hot streak.
A traditionally industrial and agricultural county with a growing emphasis on technology and modern manufacturing, Delaware County is attracting U.S. and international investment with an impressive record of "wins" in the past few months.
Leading the way and among the biggest is the new CANPACK plant, which in June reached a milestone in its construction with placement of the final steel beam in the plant's structure. The Poland-based beer-and-beverage can factory represents an investment of $380 million and will use 4,500 tons of structural steel and 75,000 cubic yards of concrete in construction of its facility. CANPACK will encompass 862,000 square feet.
When the plant is operational in 24 to 36 months, it will employ 345 people.
Among other announcements in just the past few months:
Taurus Tool moved to a new, larger facility and will add a new water-jet service to its product line. The company is also adding to its job roster. And Taurus Tool created a new local landmark by installing a five-feet-by-eight-feet statue of a bull outside its new headquarters.
Living Greens is leading Indiana in the new trend of vertical, indoor farming and was the subject of news coverage in the Indianapolis Star, the state's largest newspaper.
Montana-based Jones Brothers Trucking will build a $2 million, state-of-the-art trucking and dispatch facility in the Industria Center industrial park. The site will serve as the Eastern hub for the company, which not only maintains its own fleet of trucks but acts as a logistics brokerage, connecting companies with thousands of trucks ready to haul.
Filtrec, a leading Italy-based manufacturer of industrial filters, chose Delaware County as the site of its new North American headquarters. Filtrec bought a building – the former Taurus Tool facility – and will not only move its 6,000-part filter inventory to the building but also install machinery to assemble Filtrec's wide array of filter products. The company's North American headquarters will be located in the building.
Merit Tool & Manufacturing, for 35 years a hidden gem in Delaware County, is growing with the support of the Delaware County commissioners and Delaware County Economic Development. The company is expanding its line of products and services with a new CNC (computer numerical control) controller.
And Delaware County is not ignoring the community's manufacturing past. The East Central Indiana Regional Planning District won a $500,000 grant from the U.S. Environmental Protection Agency to help identify former industrial properties for cleanup. ECIRPD has assembled a committee of local residents to identify the greatest need for environmental action.
Director of Economic Affairs, Brad Bookout said, "We've worked really hard to try and put Delaware County back on the map through the attraction of a new and diversified set of commercial and industrial companies. It's no secret that large capital investments (eg. new factories) make for large tax paying entities – which supports our schools, emergency services and road paving budgets. The Delaware County Commissioners have done an excellent job of directing this work, and ensuring that any incentives for the companies are done in a responsible way – so as that the companies will be around for years to come."
Commissioner President Sherry Riggin said, "Seeing new large-scale companies investing in Delaware County really gives me hope that our community has turned a corner. The new businesses locating here will have impacts and provide opportunities for generations to come."
Commissioner Shannon Henry said, "Helping Delaware County rebuild our business and industrial areas has always been a priority of mine. I'm thankful to see our county moving in a direction where workers now have a variety of options for employment."
Commissioner James King said, "The companies that we've worked to attract have a business multiplier effect that extends well beyond the initial investment. As a result of the new projects, we're seeing increased business with restaurants, contractors, material suppliers, professional services and many others. I'm really happy to see such a positive economic impact happening in our community."
ECI Regional Planning Director Bill Walters said, "Working on projects to attract new investment to our community is great, but we've also worked to couple those efforts with addressing the contamination left behind by the previous generation. The $500,000 grant that ECI received will be put to good use investigating contamination at some of Delaware County's most concerning sites; especially those near residential areas."
About Delaware County Economic Development
Dynamic and forward-thinking economic development is the specialty of Delaware County, Indiana. In 2015 the Delaware County Commissioners privatized the County's economic development activities. Since that time, the County has developed its own business retention and expansion programs that are in constant contact with the multitude of industry within the County.  In addition, efforts to identify and attract various suitable industry throughout the world are undertaken on an annual basis.  For more information, contact Brad Bookout at bbookout@augustaconsultingllc.com.