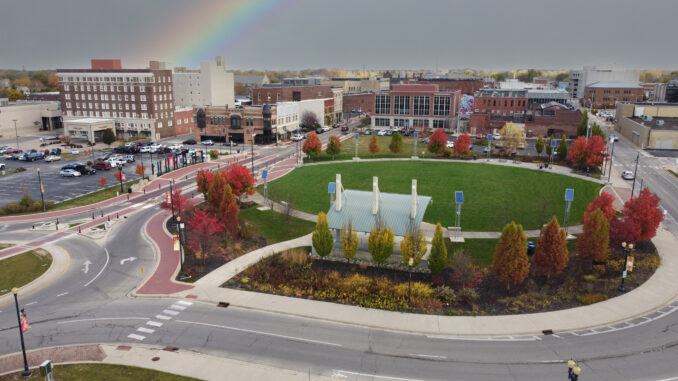 By: Muncie Downtown Development Partnership—
Muncie, IN—DWNTWN, The Original Muncie, is a newly rejuvenated community that boasts a surprising number of unique businesses, local restaurants, original art venues, and unparalleled events. Directed by Muncie Downtown Development Partnership, an Indiana- and nationally-accredited Main Street organization, Muncie's downtown area has grown exponentially in the past five years alone. Today, business owners, artists, and individuals are united through their common love and pride in living, working, and playing DWNTWN.
But what does it mean to live, work, and play here?
Live
With numerous shops, restaurants, and public transportation accessible within walking distance, it's no wonder why DWNTWN is at 98% residential occupancy—that means more than 1,000 people call DWNTWN home. From starter apartments to family-sized condos and homes, DWNTWN living is affordable and suitable for all ages and occupations. The eclectic mix of individuals who live DWNTWN create a familiar, welcoming community culture.
Work
From local shops to the headquarters of regional companies, DWNTWN boasts more than 230 businesses and attractions. As a thriving business hub, commercial buildings and properties are currently 84% occupied. Together, DWNTWN businesses employ more than 3,500 people—and that number is continuously growing.
Play
DWNTWN hosts more than 40 days of events each year, appealing to varying interests and generations. From the biannual ArtsWalk events, to movies under the stars, to concerts featuring critically acclaimed national recording artists, there's always something to look forward to. DWNTWN is also home to 25 unique retail shops, 22 bars and restaurants, and 15 entertainment and arts venues—all of which are well worth exploring.
DWNTWN would not be the successful community it is today without the collaboration of the many organizations and people who proudly call this piece of Muncie home. Whether you live, work, or play (or maybe do all three) here, take a closer look at what DWNTWN has to offer—you might be surprised at what you find. Explore opportunities to live and work DWNTWN or plan your next visit at our newly refreshed website:  downtownmuncie.org.