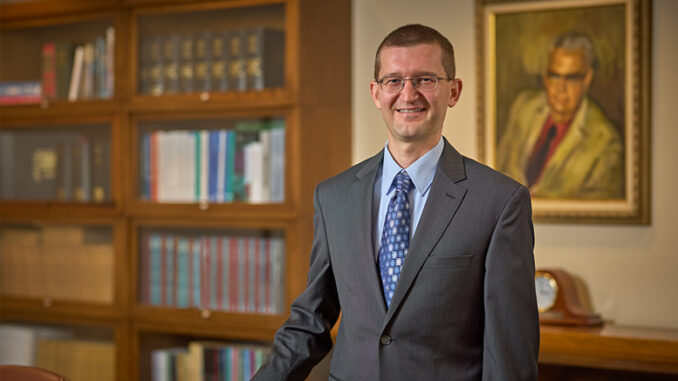 By Richard Crist—
MUNCIE, IN– Whitinger & Company is proud to announce that T.J. Bush, CPA, CFP®, has been named the firm's Managing Member. He was unanimously elected by the Whitinger Member/Owners at their recent annual meeting. His term will begin on September 1, 2022, at the conclusion of current Managing Member Linn Crull's term.
T.J. specializes in tax consulting and compliance services for businesses, individuals, estates, and trusts. In addition to being a technical resource for clients and staff, T.J. has also been a leader in the firm's recruiting, training, and development efforts.T.J. is a Certified Public Accountant (CPA), a Certified Financial Planner™ (CFP®), and a member of the American Institute of Certified Public Accountants and the Indiana CPA Society. A native of Winchester, Indiana, T.J. joined Whitinger & Company in 2007 after beginning his career with Deloitte Tax LLP. He was named a Whitinger Member/Owner in 2015.
T.J. has a BS in Accounting and Economics – summa cum laude and an MS in Accounting, both from Ball State University. While at Ball State, T.J. was awarded the Wall Street Journal Student Achievement Award for Economics and the MostOutstanding Master of Science in Accounting Award. Upon entering the profession, T.J. scored in the top 10 on the 2006 IndianaCPA Exam and has received "3 Under 30" and Emerging Leader awards from Ball State University's Department of Accounting, an Award of Achievement from Ball State University's Miller College of Business, and a "20 under 40" award from M Magazine for his professional and personal accomplishments. T.J. currently serves on the Alumni Advisory Council for Ball State University's Department of Accounting.
"I am honored to be selected as Whitinger's next managing member leading, serving, and supporting a talented, client-focused,and community-engaged firm that upholds the accounting profession's highest values," said Bush. "I'm excited to build on oursuccess of the past ninety-two years and I am committed to the development of each person in our firm as we continue to serve the accounting and advisory needs of our clients and communities."
Bush succeeds Linn Crull who served as Whitinger's managing member for the past twenty-seven years. During his time as managing member, Crull led the firm through multiple acquisitions, the initiation of a long-range strategic plan, the opening of a second office, the expansion of professional services, and the relocation of the company headquarters in 2007.
"Identifying and developing future leaders has been an integral part of Whitinger's formula for success over the past nine decades," said Crull. "T.J. will continue our tradition of excellent service and elevate our firm's future as a strategic, decisive, and resilient leader."
About Whitinger & Company
Whitinger & Company LLC was founded in 1930 by R.J. Whitinger and today it is one of Indiana's most respected Accounting & Advisory practices with officesin Muncie and Indianapolis Indiana. Progressive in providing value beyond the numbers, Whitinger & Company has been a leader in meeting the accounting, tax and advisory needs of their clients for more than 90 years. Firm associates provide a wide variety of services including Accounting, Audit & Compliance, Business Valuation, Estate Planning, and Tax Advisory & Compliance Services. Additionally, firm affiliates provide Financial Advisory Services through Whitinger Financial Advisors, LLC.