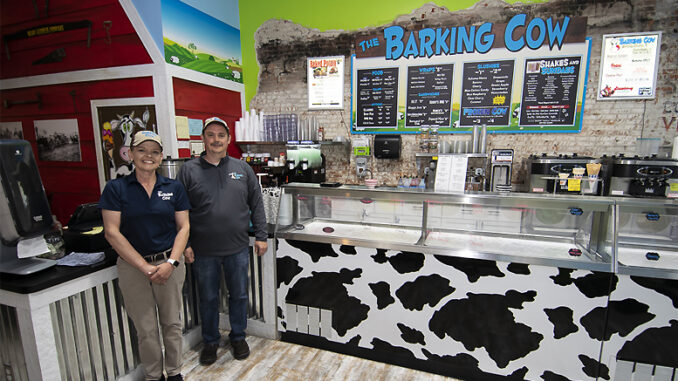 By: Mike Rhodes—
Muncie, IN—Scott Mick, owner of the Barking Cow of Muncie, didn't have a burning desire to start a new business. In fact, starting a new business wasn't something he'd really ever thought about.
"Actually, I was looking for a tenant for this space after photographer RD Hunt moved out," he said. "I purchased the downtown Kelso building a few years ago. I was having a difficult time finding a new tenant, so I began thinking about what the downtown area needed.  While talking with other people, another food option or ice cream came up a number of times."
Mick knew Cary Malchow, (the owner and originator of the Barking Cow in Gaston)  from some of his real estate dealings, so he asked Malchow if he would be interested in starting another Barking Cow downtown in the Kelso building.  Malchow declined, due to all the other businesses he was involved with.
However, a few days later Malchow called back and said he would help Mick start the shop IF Mick owned it.  The two men discussed the opportunity at length and the partnership began to bring the Barking Cow to Muncie.
Tasty Food Items With Local Connections
Mick likes to use local ingredients for his Barking Cow menu items where possible. For example, he uses cake from Concannon's Bakery for his strawberry shortcake. He uses JohnTom's barbecue sauce for some of his meat items. And his meats are sourced from Fisher Meats in Muncie. The Barking Cow of Gaston supplies some of the ice cream for the downtown shop.
Early on, Mick found that lactose intolerant customers were asking for dairy and gluten-free options, so the Barking Cow of Muncie now offers those kind of items.
When asked what the favorite ice cream flavor was, Mick responded immediately. "The Delaware County Pothole flavor," he said laughing. "It's a 5-to-1 favorite over everything else. It's the best selling ice cream in the shop."
Another popular item is the baked potato, which comes in five different topping options.
Unique Memorabilia
Inside the Barking Cow in Gaston, Malchow has a "Who's Who" wall, complete with bios of famous people from Indiana.
Mick says he plans to do a similar thing soon."We currently have a sports wall and we have three additional walls where we will be putting up large murals of historical Muncie photos," he said. "People bring  historical materials into the shop, hoping we will display them. We are getting a lot of people bringing in Muncie Central memorabilia. I had one lady come in whose husband had collected Muncie Central memorabilia for years. Her husband passed away recently and she wanted some of those items to be displayed somewhere. So we are going to do that. It's really neat to see the people displayed on our walls or people related to them come in, and comment, and get their pictures taken in front of the artwork."
Parking
Parking is available on Walnut Street, but there is also a back entrance to the shop that is not well known.  FREE parking is available in the parking lot right behind the building if you park in the center section of the lot. Customers can then walk through back door, which is always open during business hours.
Mick soon plans to introduce outside seating in front of the Walnut Street entrance. He is currently researching furniture options for the outdoor patio area.
The Barking Cow of Muncie also has a "Party Room" which seats 20 people and is available to rent for group meetings or parties.  The room is equipped with a digital video projector and loudspeakers. Mick says a number of small groups and birthday parties have already been held there.