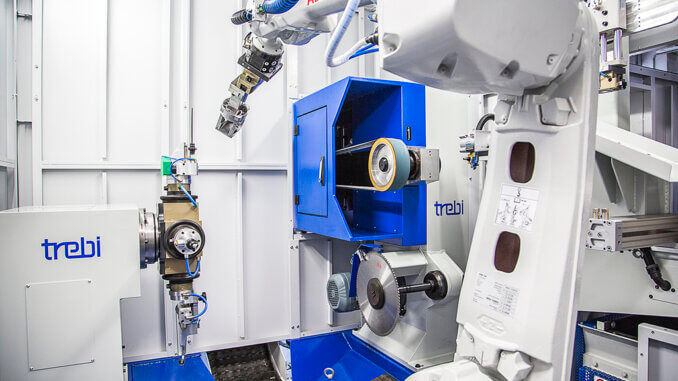 By Keith Roysdon—
DELAWARE COUNTY, Indiana – An Italy-based high-tech manufacturer is establishing its new North American headquarters in Delaware County.
Trebi, a maker of robotic finishing machines, will establish its office space in the Innovation Connector complex in Muncie. Trebi anticipates working with the robotics training facility at the Ivy Tech Community College campus located on Cowan Road.
The Delaware County commissioners have been working with Trebi for several months on the company's plan to establish its headquarters in Delaware County.
Delaware County courted the company because of its technological advancements as a high-tech robotic machine manufacturer. Trebi produces robotic equipment that automates production processes that have historically been considered dangerous or dirty jobs.
Automating some of these processes also addresses the industry-wide difficulty in recruiting workers, said Brad Bookout, director of economic affairs for Delaware County. The company's product addresses the need for automated machinery in North America, which is greater than ever. Trebi's robotic products are designed to automate work so that it is continuous and can run around the clock 365 days a year.
A focus of Trebi's interest in Delaware County is the robotics training facility at the Ivy Tech Muncie campus located on Cowan Road. Trebi principals met with county officials and toured the state-of-the-art facility. The company said it was "excited" for future opportunities to collaborate with Ivy Tech. The college's programs help engage skilled workers to eventually manufacture machines in Delaware County.
Delaware County officials credited Jeremy Brown, Dean for the Schools of Advanced Manufacturing, Engineering & Applied Science, Business, Logistics and Supply Chain and Information Technology, for working with the county to help Trebi access Ivy Tech's robotics program.
Trebi's Italian headquarters is located outside the city of Brescia. Trebi's entry into the Delaware County economic development world makes it the latest local company with roots in Italy. Others include Muncie Power Products, INOX Market America and Filtrec.
Director of Trebi North American Sales Operations Christopher Talarico said, "Delaware County gave us an incredible welcome and we are really excited for the opportunity to begin offering and selling our products from our Delaware County location. Year one of our operations in the U.S. will be spent introducing our products and robotic machinery to the U.S. marketplace. From there, our goal is to have a warehouse and eventual manufacturing capabilities."
Bookout said, "The future of low skilled jobs in the U.S. is pointing towards automation. Rather than see automation put people out of work, Delaware County thought best to attract an automation company. We want Delaware County residents to eventually manufacture this robotic equipment. The goal is to keep Delaware County at the forefront of this expanding industry and provide higher tech employment options."
"We're happy to welcome Trebi to the Delaware County community," said Shannon Henry, president of the Delaware County commissioners. "After visiting their state-of-the-art manufacturing facility in Italy, I'm confident that there are many opportunities in the U.S. manufacturing world for their products to be incorporated."
"We look forward to seeing Trebi grow locally. Bringing higher wages and higher skilled technology-driven positions to Delaware County in this field is an incredible opportunity," said Commissioner Sherry Riggin.
"It's very encouraging that Trebi will work with Ivy Tech Community College, a great resource, in establishing its local presence," said Commissioner James King. "Being able to watch Trebi grow its customer base, knowing that they call Delaware County home is a win for the company and our community. The need for their product from coast to coast is exponential."
Trebi Owner and Sales Executive Martina Bonomi said, "Delaware County has provided us a wonderful platform to launch our new Trebi North American headquarters from. The county assisted us with every aspect of our needs. Trebi is delighted to be a part of the Delaware County community and we look forward to gaining traction in the U.S. marketplace and expanding operations."
Piercarlo Bonomi, Trebi Robotic Cell Expert & Technical Director said, "Being a high tech manufacturer of robotic equipment, we want to be located in an area that we can have access to skilled people who can work on the technical side of our applications. The Ivy Tech campus robotics program in Delaware County provides us an excellent place to source skilled workers to be part of the Trebi team. Trebi has an incredible opportunity for growth in the United States and the central location of Delaware County, Indiana is the right place for us to launch from."
More information about Trebi: https://www.trebi-bs.com/en/
About Delaware County Economic Development
Dynamic and forward-thinking economic development is the specialty of Delaware County, Indiana. In 2015 the Delaware County Commissioners privatized the County's economic development activities. Since that time, the County has developed its own business retention and expansion programs that is in constant contact with the multitude of industry within the County.  In addition, efforts to identify and attract various suitable targeted industry throughout the world are undertaken on an annual basis.  For more information, contact Brad Bookout at bbookout@augustaconsultingllc.com.