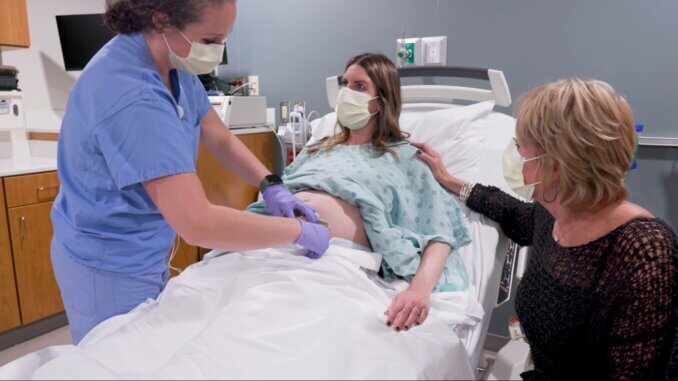 By Courtney Schmoll—
MUNCIE, IN—IU Health Ball Memorial Hospital in Muncie welcomed the first patients to its new mother/baby unit on January 17, 2023. The recently unveiled addition is the final project in the hospital's twelve-year, $112 million North Tower renovation.
The new unit houses both labor/delivery and mother/baby specialties. Prior to the renovation, both teams worked on the same floor, but in separate spaces. Now, the two nurses' stations are together, and the floor is one, continuous unit with expanded room sizes and more modern amenities for moms, babies, and families. The unit joins its fellow women's and children's inpatient areas—including neonatal intensive care (NICU) and pediatrics and women's services (PAWS)—in offering leading edge care to patients in new, modern spaces.
"The renovation of our women's and children's inpatient units is truly a game changer," said Beth McIntire, women's and children's service line leader. "We have always been known for our exceptional care to women, children, and their families in East Central Indiana. As a level III neonatal intensive care unit, our teams provide specialized care to the most critically ill newborns in a healing environment that supports families. Adjacent to the NICU, our PAWS unit is staffed with 24/7 pediatric hospitalists to care for children recovering from illness or surgery. Additionally, our new labor and delivery unit provides comprehensive care for low-risk to high-risk pregnancies."
Features of the project include:
Completed in phases from 2021 to 2023, the total renovation area spans 32,000 square feet, ensuring a modern and updated facility.
Eight spacious and comfortable labor and delivery rooms. Three of these rooms are equipped with negative air isolation to ensure safety, while two are ADA compliant, two have patient lifts, and one has a labor/birthing tub for added comfort.
Two state-of-the-art operating rooms that are equipped to handle cesarean or c-section births
17 postpartum (mother/baby) rooms. Two of these rooms are negative air isolation, while two are ADA compliant, ensuring that all mothers and babies have a comfortable, private and safe environment to rest and recover.
A separate nursery/treatment room along with ancillary support spaces for added support and convenience
These advancements in antepartum, postpartum and neonatal care are some of many updates to how IU Health Ball is building on our promise and creating a new model of care for our community. The North Tower renovation project converted semi-private rooms to 25 private rooms on each floor, two new operating rooms, and ten remodeled operating rooms. The new spaces have been opening in phases over the past twelve years to minimize disruption of patient care.
"From the onset of the project, our goal was to create a seamless patient experience by remodeling the North Tower rooms to match the rooms in the South Tower," said Jere Cox, director of design and construction. "Our aim was to ensure that patients transitioning from critical care to progressive or medical care could do so without any noticeable change in the look and feel of their surroundings. Previously, patients had to move from spacious private rooms in the South Tower to smaller semi-private rooms in the North Tower. This project has resolved that issue, and now all patients at Ball enjoy spacious private rooms, regardless of the level of care they require."
The project boasts several unique features, including:
Each floor has three ADA rooms and one bariatric patient room, capable of accommodating patients weighing up to 1,100 pounds.
A combination of centralized and decentralized nurse work areas has been implemented to ensure the best possible patient care practices.
All rooms are now equipped with electric patient lifts, which reduces the risk of staff injuries.
A dedicated staff sanctuary space on each floor provides team members with a much-needed respite area.
Rooms now have outboard bathrooms, allowing for better patient visibility and maneuverability within the room.
Several floors feature two negative air flow rooms for respiratory isolation patients.
Masimo® vital sign monitors have been installed, documenting real-time vital signs and automatically uploading the information to patient electronic charts, providing accessible information to all nurses and physicians caring for the patient.
The Neonatal Intensive Care Unit (NICU) comprises 21 beds throughout 12 private rooms and six private bays. Three of the rooms have two beds to accommodate twins, and four rooms have dedicated parent bathroom and shower facilities. All private rooms have a designated family area with comfortable seating, cabinetry, and televisions, allowing families to spend more time with their loved ones.
The PAWS unit features nine large private rooms, with two rooms sharing a common door for families with multiple children in care.
The new spaces were designed based on feedback from the teams who are currently caring for patients in those units. From an internal perspective, the units provide team members with a brighter environment, more space to work in, more ease in caring for patients, a private tranquility space on every floor, and more.
"Completing this construction is a huge achievement for our teams and for the community at large," said Jeff Bird, MD, president, IU Health East Central Region. "The renovation process has taken more time than we'd like–and a great deal of resources to update an aging infrastructure and convert floors to new units–but we have worked very diligently at this. We're committed to not only the best care for every patient, but also an environment that provides optimal care, privacy, and healing for our patients and their loved ones."