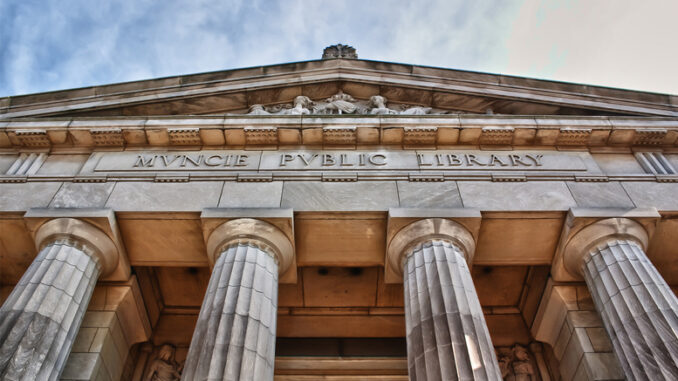 By: Susan Fisher—
Muncie, IN—Visit beautiful Carnegie Library, a branch of Muncie Public Library, in downtown Muncie to discover a community treasure!
In 1901, the City of Muncie received $55,000 from industrialist and philanthropist, Andrew Carnegie to build a library. The foundation for Carnegie Library was laid in 1902. The date is carved into its cornerstone. The Carnegie Library was dedicated and opened on June 1, 1904.
The building was added to the National Register of Historic Places in 1976. In 2001, the building was remodeled with new HVAC systems, ADA compliant ramps, and elevators. A new public meeting space and wiring for technology were also added. Many of the historic architectural elements of the building were preserved, including exterior Ionic columns carved from Indiana limestone, grand interior columns, and a beautiful stained glass dome.  Artwork and furniture from 1904 were also restored and remain in the building, including the J. Ottis Adams painting "Wheeling Pike as it appeared in 1891," which was gifted to the library by T. F. Rose for its opening. Carnegie's beauty is appreciated. A customer recently told Carnegie staff, "I just came here to get tax forms and enjoy the beautiful architecture of this library. I don't get to come down here very often, but Carnegie Library really is one of the jewels of Delaware County. This is one of the reasons that I am happy to pay my taxes," he said.
Today, Carnegie Library is no longer a circulating library and instead serves as the Local History & Genealogy branch of MPL. Carnegie Library offers access to original county records (marriages, deeds, wills, probate, court records, and more) from the Delaware County courthouse dating back to 1827 as well as the Local History & Genealogy reference collections (birth and death indexes, cemetery records, city directories, school yearbooks, family files, newspapers on microfilm, and so on). It also has two computer labs – one for genealogy research and one for general public use. Free access to Wi-Fi and to popular genealogy databases such as AncestryLibrary.com and MyHeritage.com is also provided.
As part of the MPL mission, Carnegie Library provides educational programs about genealogy, local history, and historic preservation.  Many of these programs are conducted in successful partnerships with organizations such as the Delaware County Historical Society, Ball State University, Sons and Daughters of the American Revolution, Central Indiana DNA Interest Group, National Model Aviation Museum, Minnetrista, and more.
The downtown branch is also known for its hidden treasures. During the library's most recent renovation, a worker's boot from the building's construction was found tucked away in a wall along with the name of its owner. This was a very old superstitious practice, to place a shoe inside a building's wall for protection.  The story of Frank Garrett's boot has been included in several studies of the tradition.  The boot was photographed and was then placed back in the wall where it remains today. Is Carnegie Library haunted? In 2017, the East Central Indiana Paranormal team investigated Carnegie Library and their findings were very interesting.
Stop by Carnegie Library at 301 E. Jackson Street in downtown Muncie to discover everything offered there and maybe even more than you expected! Carnegie hours are Tuesday through Friday from 10am until 6pm.
Call 765-747-8208 for more information or to arrange a group tour. Additional information is also available at the library website at www.munciepubliclibrary.org.