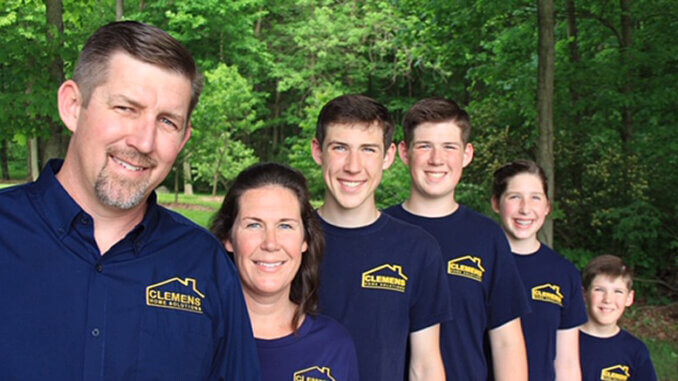 By: Kristina Clemens—
Muncie, IN—In an industry where 96 percent of new firms go out of business within five years, Clemens Home Solutions has grown and prospered for more than two decades.
Certainly, a good deal of this success has come because construction is in the blood of Shawn Clemens, the company's owner and founder. Passionate about building things for as long as he can remember, Shawn has been actively working on home construction sites and remodeling projects since he was 12 years old – an age when most kids' building activities still involve the use of LEGOs.
Then, there's the growth that's attributed to a steady stream of repeat business and word-of-mouth referrals. Clemens' company began in 1998 with his purchase of a machine for installing seamless guttering. Soon, Shawn and his staff began doing roofing, as well.
"The two jobs are closely related; sometimes someone will think they have a guttering problem but it's really a roof problem, or vice versa," Clemens explained.
And since then, customer demand has driven his company's list of products and services to expand greatly, now including windows, doors, siding, patio rooms and LeafX gutter protection systems. When people see beautiful results and enjoy the security of working with a company they can trust to do one project right, they naturally call on them to do other kinds of jobs, as well.
"By delivering even better quality and value than people expect, being there on time to do the work, and taking responsibility for anything the customer isn't happy with, we earn people's trust," Clemens said.
Yet, even beyond all of these crucial ingredients of success lies something else that's apparent as soon as Shawn speaks about his business: Rather than taking credit for the growth and success of Clemens Home Solutions, the company's founder quickly praises the work of others.
"My name is on the wall, but my success has come because I'm blessed to be working with people who have the same heartbeat as I do," he said.
It's a sentiment that's expressed right in the company's mission statement, too: "Clemens Home Solutions is committed to providing top-quality home improvement products and long-term growth for our employees."
While many talk about the importance of investing in people, Clemens has done just that. The company's new headquarters at 2222 S. Madison Street includes a 60′ x 60′ building that serves as a fully-outfitted training center, allowing employees to acquire new skills and hone their existing capabilities during times when work is slow, such as the months of January and February. There's also a large conference room/classroom area that can be used for instructional presentations.
So, during months when some competitors lay their workers off, Clemens Home Solutions pays them to learn.
"Ever since I started in this business, my goal was to establish a training center where we could provide our employees with 80 hours per year of paid training," Clemens explained. "This has become increasingly necessary, as the pool of qualified people in construction and other skilled trades has been steadily declining for a long time."
Then, in 2008, the problem of finding skilled employees became particularly acute when the recession pushed many parts of the housing and construction industry into a multi-year downturn.
"Even though our company's business did not decline significantly following the 2008 economic slowdown, we started having an even harder time finding skilled employees because economic conditions were reducing the number of young people who were going into construction," Clemens said. "People just assumed there weren't any jobs.
"On top of this, rather than encouraging interested students to investigate opportunities in the trades, high schools started moving students toward the idea that everyone should go to college. Yet, often times a person can make more money in the skilled trades than he or she can by working some of the jobs that require a college degree."
At Clemens Home Solutions' training center, company employees practice installing gutters and roofing materials, deal with special situations such as applying flashing around different kinds of chimneys and vent pipes, and receive instruction in the safe use of tools and construction equipment. Specialized work stations in the training center provide hands-on opportunities to practice these skills, while classroom components of instruction include such material as videos, Power Point presentations and one-on-one discussions.
"Construction work was for many generations a skill that fathers passed down to their sons, but when the market for new homes collapsed ten years ago, many of the kids who would have gone into construction got other jobs instead," Clemens said. "Today, a lot of our new employees have little to no experience, so we're giving them an opportunity to learn what they need to know before sending them out to work.
"This helps our employees – and it also helps our customers by allowing us provide them with the best products and the highest-quality work," he added.
In an effort to share with customers and prospective customers some of what he has learned by being involved in the construction business for nearly all of his life, Clemens has produced a book, which is available in printed form directly from his company or as a free e-book download from the firm's website, clemenshomesolutions.com.
The Informed Consumer's Guide to a Successful Roofing Project, Clemens' book, explains how to decide whether it's time to repair or replace a roof, select the best type of roof for a home, as well as spot and avoid rip-offs and unethical roofing companies. The book also includes resources, worksheets, and suggested questions to ask any company before hiring them to repair or replace a home's roof.
Of course, Clemens also invites prospective customers to contact him directly for more details on any project they're considering.
"In this field, there are few things that are black and white," he said. "I always tell people that with any project, different people are going to look at it and see something different.
"What I can offer is the assurance that we're going to explain all of the options, show you samples, and make sure you understand what we're going to be doing. And, of course, we're going to guarantee that you're 100 percent satisfied at the end of the job, backed up by a 15-year warranty on our workmanship."
It's a promise that arises from three simple rules that Shawn's parents, Steve and Sheryl, taught him as he was growing up, Clemens said.
"My dad was the pastor at Pilgrim Holiness Church (now New Hope Church) for 29 years," Clemens said. "Through that, the three most important things my parents taught me are to love God, love people, and do your best in everything you do."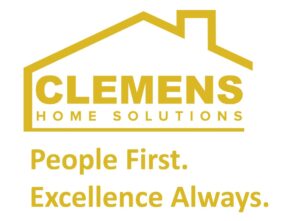 Clemens Home Solutions
2222 South Madison Street
Muncie, IN 47302
phone:
Website: clemenshomesolutions.com
Facebook: https://www.facebook.com/clemenshomesolutions/