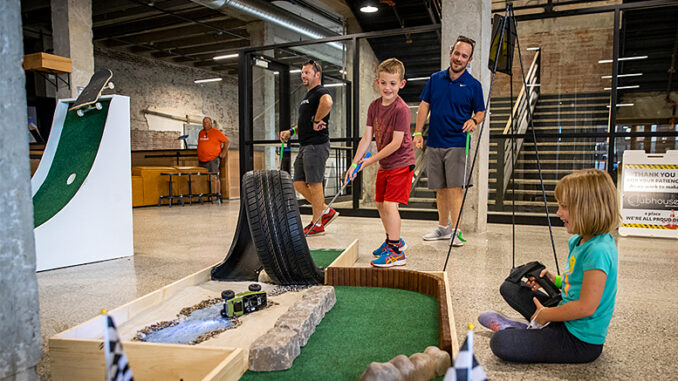 By Scott Smalstig, Director of Community Growth for Accutech—
MUNCIE, IN — The Clubhouse @Accutech, a family entertainment and restaurant venue, has opened in downtown Muncie, on the first floor of the Accutech building on South Walnut Street.
Adam Unger, President of Accutech, a leading software company for the wealth management industry, says it's all part of a bigger vision.
"My view of philanthropy is to create jobs, improve quality of place and instill pride in our city," says Unger. "The Clubhouse is our first spin-off business that we think will do just that. We've been very intentional about our vision. Profits from the Clubhouse will go into our next effort."—Adam Unger
The notion of impact and philanthropy as a means to promote "making great things happen for other people," goes to the heart of Unger's upbringing and his faith-centered philosophy. The son of the late Carol and Ray Unger, Adam took the reins of Accutech in 2010 and is laser focused on finding ways to complement what already is downtown, and be a catalyst for future growth and investment.
Accutech invested $5.5 million to purchase and redevelop the former Sears Building in the downtown. The decision to remain in Muncie, where he grew up, is a nod to his confidence in the renaissance and economic viability of the area. Contemporaries tried to convince him that he would be successful only if he moved his software company out of Muncie and to a bigger city like Indianapolis, Cincinnati, Raleigh, or even Chicago.
Like many good ideas, the Clubhouse was born out of personal experience.
"I have young kids and once a week I take them on a date," Unger says. "When the weather is warm, it's easier to find something to do but when it's cold, it's more challenging. We've been really intentional about making The Clubhouse a family environment so that we can be a part of solving that dilemma."
With five digital bays seasoned golfers can play the most prestigious courses in the world – from St. Andrews to Pebble Beach. Weekend hackers can work on their swing or push themselves by adjusting course conditions like wind or rain. You may bring your own clubs or rent them at the Clubhouse.
There's something for kids, too. Each bay simulator has settings for carnival-like games where families and friends can bowl and play skee-ball with a putter, or play darts and balloon pop with a wedge.  If soccer is more your speed, you can play golf courses with a soccer ball (foot golf) and do training games where you try to hit targets that simulate penalty and free kicks.
In Ray's Bay, named for Accutech founder, Ray Unger, – one bigger than the rest – in fact, the largest commercially available impact screen for digital sports in the world, Unger says- you can play ultra-realistic golf while also having an even wider variety of alternative sports experiences.
"On that simulator and you can play over 30 different sports including golf, hockey, football, archery, duck hunting, dodgeball, and more. "It's an amazing variety for families and groups to have new experiences each time they come," Unger said.
And then there's micro-golf, where there are 18 challenging holes unlike any traditional putt-putt holes. All were designed and built by Accutech employees.
The Clubhouse has already been a great venue for private birthday parties, corporate team building and reward events, and family reunions, too. Over 40 functions have already been hosted, and people are already booking Christmas gatherings.
A full-service restaurant and full bar, tucked in the back of the Clubhouse, is accessible but not emphasized, giving families the same comfort level as the young professional crowd looking for a cocktail at happy hour.
"We wanted this to be a place for community, for family, for business, and for fun," Unger said. "We really feel like this is the start of something great."
About Accutech Systems
Accutech Systems is a holding company for the family of brands; Cheetah Wealth Management, Opendigital, FiCrowd, Insights, Moneytree, Intersection, and The Clubhouse. Together the family of brands employs 200 people, and is headquartered in Muncie, Indiana.