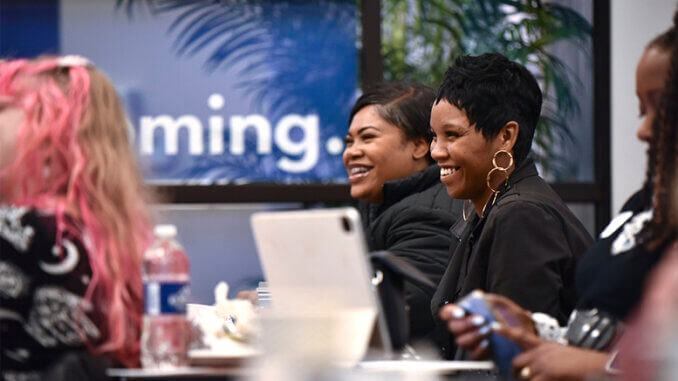 By Ted A. Baker, CEO/Executive Director, Muncie Innovation Connector, Inc.—
MUNCIE, IN—The Muncie Innovation Connector business incubator is located at the corner of White River Blvd and Jackson Street in Muncie, IN. Since its opening in 2008, the Innovation Connector has welcomed thousands of guests who have attended programs in the facility, sought business advice and coaching, leased office space to start or grow a business, or participated in an event.  The Innovation Connector hosts meetings for many businesses and organizations in its boardrooms and training center.  In the past fifteen years, the Innovation Connector has established itself as a vital community resource and THE place to start or grow a business.  With its easy access from all parts of Muncie, including excellent street-level parking, the Innovation Connector has been called the Gateway to Entrepreneurship in east-central Indiana. The Innovation Connector's modern facility has served the community well, but the real value of the Innovation Connector goes beyond its physical structure and presence.  The Innovation Connector is more than just a building.
The Innovation Connector is East Central Indiana's only full-service Entrepreneur Support Organization.  What does that mean? Here is a partial list of what we offer.
Access to education and training resources to help entrepreneurs start and grow businesses.
We connect entrepreneurs and business owners to resources that positively impact their businesses.
We assist the "dreamers" – people with ideas, dreams of owning a business, and hopes for a better career.
Access to lease premium office space, conference rooms, and co-working space in a supportive, creative, and innovative environment.
Coaching and advising all entrepreneurs. Our first question is always, "How can we help you?"
Practical business services available as needed, including bookkeeping and accounting assistance, business planning, creating financial models for startup and growth, and access to capital for businesses.
And more. Much more!
To help you better understand how this works, let me share an account of a person who is just beginning the process of starting a business.  For the sake of this story, this person will be referred to as Pat.  Pat has worked in the service industry for over twenty years and has a wealth of industry and institutional knowledge.  The current business Pat works for is going through changes, and the company's future is uncertain.  This could be a prime time for Pat to start a business.
Uncertain of the next steps, a friend who has already started a business encourages Pat to contact the Innovation Connector to learn about the available resources.  Pat makes a quick phone call to the Innovation Connector, and a one-on-one appointment is scheduled for the next day with an advisor.
On the appointment day, Pat meets the advisor at the Innovation Connector's offices at 1208 West White River Blvd., Muncie. The Innovation Connector is easily accessible from any part of Muncie, ground-level parking is available close to the main entrance, and Pat notices the landscaping of the property is well-manicured.  Pat has a good feeling about this place.
Pat is immediately welcomed when entering the Innovation Connector. Pat meets with an advisor – let's call him Ted.  Ted welcomes Pat into his office and offers Pat a bottle of water or Diet Coke, and Ted asks right away, "How can I help you?" It is time for Ted to listen!  Pat is very passionate about getting this business started. Pat believes it is time for this to happen. With a few discovery questions, Ted asks Pat about a few practical business steps. "Who is the customer you will be serving?" "Are there enough customers to provide the revenue needed to sustain this business?" "Have you identified the costs associated with the start-up?" "How much money is needed to get the business started and into the near future?" "Where will these funds come from?" "Once the business is started, do you know how to run a business?" "What emotional support do you have from your circle of friends?"
Pat is now a little overwhelmed – no, a lot overwhelmed.  But this is OK.  Ted's goal was to assist Pat in moving away from just being passionate about opportunities and dealing with the practical aspects of a business.  So, one by one, Pat and Ted worked through the list of questions.  Pat was now beginning the "business planning" process.  While there was continued uncertainty with many new questions, Pat started to believe that starting a business was within reach – and could become a reality.  Before Pat left the hour-long meeting, Ted gave Pat some "homework" to complete before the next meeting.  This included gathering data for startup and operating costs, specifically defining the business's target and ideal customer, and drafting a simple operational plan.
Pat was determined to start this business – never losing the vision and passion needed to start the business.  In subsequent meetings, we discussed understanding customers and people who would pay for these services. We drafted a Financial Proforma – detailing revenue and expense projections and developed a cash flow analysis.  Pat came to each meeting with questions, concerns, highlights, and energy to continue.  As Pat progressed through the business startup steps, Ted recommended other people that could be contacted for better insight into the business world.  Ted even introduced Pat to Muncie's mayor since the business would be in Muncie.
The bottom line is this: We helped Pat connect the "startup dots."  Pat's dream and vision became a reality within four months – now OPEN FOR BUSINESS.  Pat's diligence and hard work paid off.  And the services provided by the Innovation Connector helped Pat along this intense journey. While this story is not a "real account of a specific client," Pat represents many entrepreneurs we see daily.  The services that were offered to Pat, well, they are real.  One client told me once, "The Innovation Connector sure pulls out all the stops to help people!". Our goal is to always provide excellent service experiences to everyone who walks through our doors at the Innovation Connector.  And, if we cannot help a specific need or client, we promise to connect them to someone in our community who can help.
If you identify with any part of Pat's story and want some business assistance, please get in touch with us.  And when you visit the Innovation Connector, remember that while the building is a great place, the real magic is what happens inside.

1208 W. White River Blvd.
Muncie, IN 47303
(765) 285-4900
http://www.innovationconnector.com