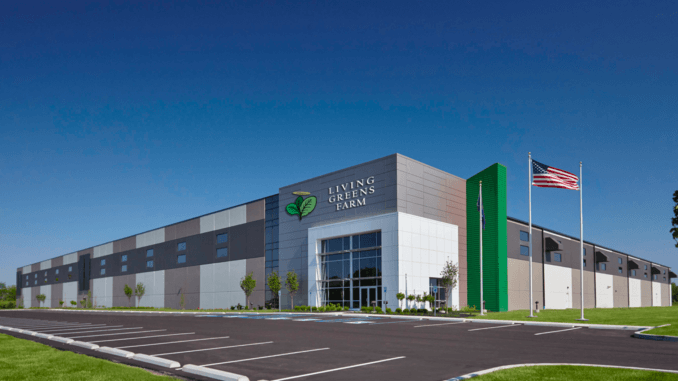 By Keith Roysdon—
DELAWARE COUNTY, IN – An innovative and growing agriculture producer is continuing progress toward its coming operations in Delaware County.
Living Green Farms, which has drawn attention from around Indiana and the United States for its vertical gardening process that will produce healthy and sought-after produce, is on track in its development along Fuson Road in the Industria Center industrial park, the company's president and CEO said.
"We achieved two milestones," George J. Pastrana said. "We have done some preliminary interior structure work and the other is that permitting at the state and local level have been completed."
Living Green Farms' facility is one of the largest indoor vertical aeroponic farms in the United States. The project, located in an industrial shell building, was announced in March 2022. When fully completed, it will be the single most productive indoor farm for leafy greens in the U.S.
The company, which is headquartered in Minnesota, will invest about $80 million to establish the 200,000-square-foot farming, processing and packaging facility in Delaware County. Pastrana said the first phase of the project is budgeted at about $31 million.
"The timetable we're on is to have the first phase of construction completed by the second quarter of 2024," Pastrana said. Hiring of about 150 employees will be timed to allow for two months of training.
Living Green Farms' will grow great tasting, nutritious leafy greens locally for the consumer market on its proprietary grow systems, as the racks that hold the plants are called.
Among the work ahead is finishing out the currently gravel floor of the former shell building, digging water supply lines and drains and then pouring concrete.
The company's farming system uses "significantly" less water than traditional farming methods and will save more than 100 million gallons of water each year. At capacity, the facility will grow and harvest almost 7 million pounds of pesticide-free greens for salads and other products.
The company's retail partners, where the Living Greens products can be found, have included Walmart, Whole Foods, HyVee and others.
"We are excited about the partnership with the city and county and looking forward to being good partners with both," Pastrana said.
Living Green Farms' recently sought tax abatement considerations on $31 million worth of equipment. Delaware County, in addition to the requested abatement, approved performance-based incentives. The Indiana Economic Development Corporation has committed up to $925,000 in conditional tax credits.
"We're very pleased with the latest progress with Living Green," said Sherry Riggin, president of the Delaware County commissioners. "We're eagerly looking forward to seeing new developments in the coming months."
"Living Green is one of the most exciting projects on the horizon for Delaware County," Commissioner James King said. It's a new and innovative industry for the community."
"Besides being a leader in forward-looking agriculture, Living Greens is going to be an important job creator for Delaware County," Commissioner Shannon Henry said.
In addition to the major phase I investment, the company recently sought and succeeded in having approved a three-year phased-in tax abatement on an additional $40 Million phase II. The additional phase II investment will include future machinery and equipment that will bag the harvested leafy greens in packages for pre-prepared salads that also include salad dressings and salad toppings. With an ever-increasing market share and more people seeking healthy alternatives for snacks and meals, Living Greens products will be available to consumers throughout the Midwest.
Traci Lutton, Vice President of Economic Development for the Muncie-Delaware County Economic Development Alliance commented, "It was wonderful to work with Living Green Farms on this exciting project. From the very start, the Fuson Road Shell Building offered a perfect fit for their operations and intent. We look forward to seeing this project continue to come to fruition."
Brad Bookout, Director of Economic Affairs for Delaware County commented, "The continued diversification of business and industry in and around Delaware County is welcomed.  It is important to have a multitude of varied employment options throughout our community for our friends, family and neighbors.  I'm thrilled to welcome George and the Living Greens team to Delaware County."
About Delaware County Economic Development
Dynamic and forward-thinking economic development is the specialty of Delaware County, Indiana. In 2015 the Delaware County Commissioners privatized the County's economic development activities. Since that time, the County has developed its own business retention and expansion programs that are in constant contact with the multitude of industry within the County.  In addition, efforts to identify and attract various suitable industry throughout the world are undertaken on an annual basis.  For more information, contact Brad Bookout at bbookout@augustaconsultingllc.com.
Related article below.
Living Greens Farm to Locate Operations in Delaware County; Will Invest $70 Million in Fuson Road Facility