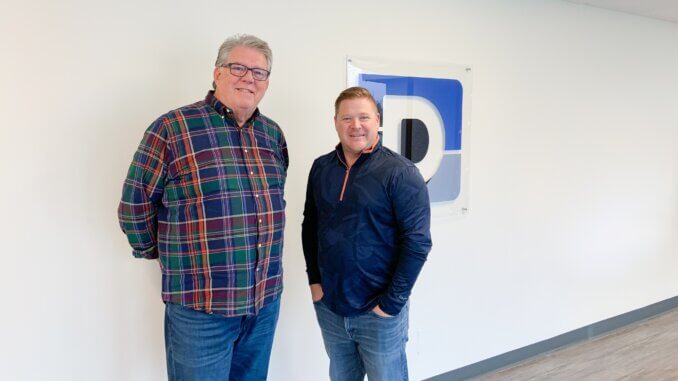 By Deltec Solutions—
MUNCIE, IN – Deltec Solutions, a leading managed service provider and strategic IT consulting firm, announces the appointment of Steve Davis as President and CEO, replacing Don Engel, who has been elected Chairman of the Board and Chief Financial Officer. Davis will assume his new responsibilities on Monday, January 2. Engel has been President and CEO since 2009 and replaces Wil Davis, who remains on the Board of Managers.
A native of the Muncie, Indiana area, where Deltec Solutions is headquartered, Davis has been with the company since 2013. He has worked in all areas of the business and brings a wide variety of experiences to his new role. Davis began his career as an attorney at Ice Miller, LLP in Indianapolis before joining Indiana Mills & Manufacturing, Inc. in Westfield as their General Counsel and Vice President of Legal and Human Resources.
About Davis, Engel said, "I have known Steve for more than 20 years, and we are in our tenth year of working together. Steve is highly capable and a man of high character who desires to serve the company and clients well."
"Words cannot express my appreciation and gratitude for Don's impact on my personal growth and on Deltec," Davis said. "He has expertly led the day-to-day operations at Deltec for 14 years, doubling the size of the business and overseeing the acquisition of Vizi Learning Systems, an interactive, online learning platform for schools and business. His leadership as Chair gives me additional confidence as I move to the CEO role. It is a unique blessing to continue to have his contributions available through and after this transition."
"Technology is ever-evolving, and it is an exciting time as new challenges continue to stretch those in our industry to serve clients well," said Davis. "We will continue to invest in our people and technology capabilities to provide our customers the best solutions possible."
About Deltec Solutions
Deltec Solutions, a Muncie-based IT business since 1990, makes its customers more efficient and competitive. Through IT network and cloud consulting and planning, cybersecurity and business continuity planning, and off-site desktop support, Deltecserves more than fifty customers across various industries across Indiana. Its deep IT expertise allows companies to focus less on day-to-day IT tasks and more on delivering their core business. By engaging Deltec as their IT partner, businesses get more predictable spending, faster response times when in need, and access to a vast amount of expertise and experience to solve their most complex technical challenges.
To learn more about Deltec, visit deltecsolutions.com.