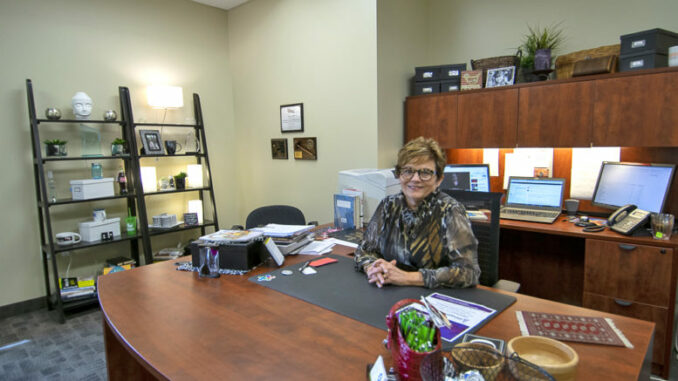 By Christy Ragle—
MUNCIE, IN—Peggy Cenova, Regional Director of the East Central Indiana Small Business Development Center (SBDC), recently announced her retirement. She has served in her current position for nearly 12 years after beginning as a Business Advisor for the Center in 2009.
"It's hard to appropriately capture Peggy's impact and contribution to the East Central Indiana region. Over the course of her 10+ years working in the SBDC, Peggy has had a direct hand in thousands of entrepreneurs and small businesses getting started, growing, accessing capital, or just simply getting unstuck," shared David Watkins, Vice President, Small Business, Indiana Economic Development Corporation. "All over the region and in places like downtown Muncie, people know Peggy and value her business advising, support, and encouragement."
Ball State Beginnings
Cenova arrived on the Ball State campus first as a student after graduating from a class of 110, and Ball State became her window to the world of possibilities. While she learned a lot in the classroom, she also grew from her experiences in the dorm and the hallways.
"That real-world education opened the door to a career that has been a fun ride," she said.
In her role as Regional Director, she solidified her relationship with Ball State. Through Ball State's partnership with the East Central Indiana SBDC, she continued to learn and serve others.
"The Center has flourished under her leadership and ability to build partnerships," noted Delaina Boyd, Associate Vice President for Community Engagement at BSU. "Peggy's legacy is the creation of a network of individuals and organizations from across the region who have pledged their support to meeting the needs of our emerging and existing small businesses."
Small Business Experience
Cenova relates to small business owners because of her extensive experience working in and around small businesses. She managed psychiatric, legal, and orthodontic practices. She owned Straight Status, Incorporated, which was an advertising specialty business, and she worked as a freelance consultant to the orthodontic profession.
"I learned about managing a small business, and that was valuable to fulfilling the demands of this job," she explained.
Cenova also served as the Town Council President in Hagerstown for 11 years. This background provided her with an in-depth understanding of local government financing.
Building a Culture of 'Know, Like, and Trust'
In true Peggy Cenova fashion, she learned about the Business Advisor opening with the East Central Indiana SBDC through networking at a Wayne County community event. She often shares that "people do business with people they know, like, and trust."
"Building those kinds of relationships across an 11-county region doesn't happen overnight, or without a team to meet with those constituents along the way," Cenova added.
She received the promotion from Business Advisor to Regional Director when her predecessor Ted Baker took another role.
"Transitioning from advisor to director involved learning about the management and fundraising parts of the center while continuing to advise clients through it all," Cenova noted. "The fundraising aspect was the most challenging. However, building relationships within the 11 counties we serve is part of the position that I truly enjoy."
Ted Baker, Executive Director of the Innovation Connector, recalls hiring Peggy for the advisor role while he was working as the Regional Director. He immediately knew she would do a great job with the East Central Indiana SBDC.
"Peggy is a consistent leader who has always been present. She has represented East Central Indiana well with her professionalism and willingness to serve business leaders," Baker conveyed. "Peggy is a very good human being who cares about serving others. This servant-leadership inspires those she works with- business owners, colleagues, and stakeholders."
Helping Small Businesses Start, Grow, and Flourish
One of Cenova's proudest achievements was serving on the steering group for the East Central Indiana Social Media Group from January 2012 through March of 2022. The group held monthly meetings featuring guest speakers who shared their social media knowledge with small business owners, nonprofit leaders, and others who were interested in learning the process. The group can be credited with helping to build a strong social media knowledge base which led to the success of many organizations and small businesses.
Carolyn Buffy Grieves attended the meetings regularly and is also a close friend of Peggy's. She sent several business owners and potential business owners to Peggy.
"As a true professional, Peggy and I never chatted about her clients, so I only know about the ones who reported back to me," Grieves expressed. "As a coach, Peggy was always their cheerleader and encourager. She cared as much about their business as they did—possibly even more."
Amanda Reninger, owner of Sea Salt & Cinnamon, relied on Cenova's experience and knowledge when it came time to start her business. The Indiana Economic Development Corporation named Sea Salt & Cinnamon this year's "Woman-Owned Business of the Year" for the state of Indiana.
"Peggy is often the first person I text when something exciting happens because she's been with me every step of the way," Reninger shared. "She has always been supportive, a cheerleader when I need it, a counselor when I don't know what to do, a sergeant when I need to get my butt in gear, and an encourager when I lose my confidence."
Future Plans
Cenova will miss working with her clients and being part of their daily successes. She also will miss the East Central team, especially the team's administrative assistant Judy Porter. The two have been through many good times and challenges together.
She looks forward to a more relaxed schedule and reading many of the books she has wanted to read for a while. She also plans to spend time with extended family and her 11-year-old granddaughter. She also intends to travel with her husband, Chris.
She has this advice to share with professionals just entering the workforce: "Set goals, long and short term, and understand that becoming successful is an evolution, not a straight line."