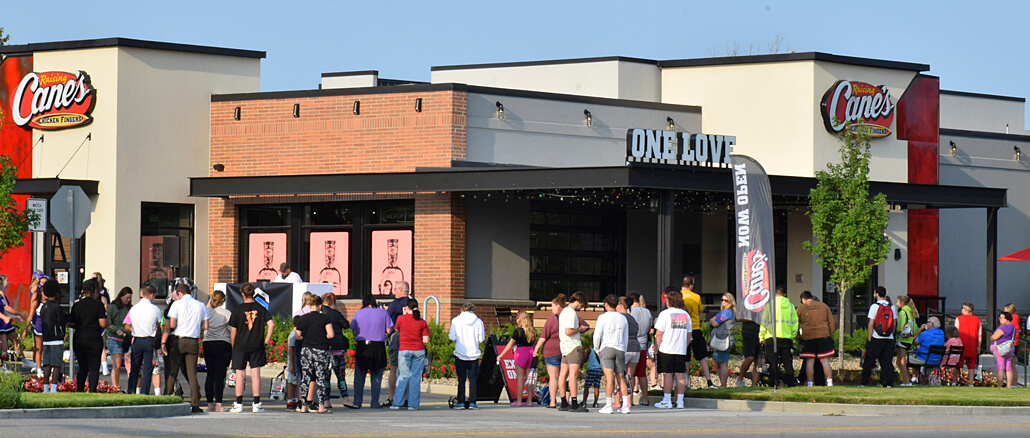 By Hannah Henderson— 
MUNCIE, IN– Raising Cane's is bringing its ONE LOVE®  craveable chicken finger meals to Muncie, Indiana. Today, Raising Cane's opened its doors to its newest restaurant—the sixth Raising Cane's in Indiana and first in Muncie.
Located at 711 W. McGalliard Road on the corner of McGalliard & Pauline Avenue, the new restaurant will be open from 10 – 12 a.m. daily and will serve Caniacs the chicken fingers, Cane's sauce, Texas toast, coleslaw, and crinkle-cut fries via drive-thru and indoor and outdoor dining areas.
To commemorate the opening, Raising Cane's kicked off the celebrations with a ribbon-cutting ceremony alongside the Muncie Chamber of Commerce. A DJ was on-site spinning the latest and greatest hits for Caniacs awaiting their chicken finger meals.
Raising Cane's also presented a check to the Muncie Central High School Cheerleaders in support of their high school program. The cheerleaders also performed for the crowd of customers.
Muncie Caniacs were encouraged to get in line early, as Raising Cane's hosted its infamous "Lucky 20" drawing to award 20 customers ages 13 and older, Free Cane's for a Year.  Entries were accepted between 8 – 9:00 a.m. with the winners announced shortly afterwards.  The first 100 customers in line also received a FREE commemorative t-shirt and Box Combo card to use on their next visit.
"We're excited to bring Raising Cane's to Muncie and continue spreading our ONE LOVE® across Indiana," said Area Leader of Restaurants Marc Mathias. "We can't wait to celebrate and make Caniacs out of this community, one chicken finger meal at a time."
ABOUT RAISING CANE'S®
Raising Cane's is one of the fastest growing restaurant brands, with 750+ restaurants in 35+ states, the Middle East and Guam and plans to open 100 new restaurants across several new markets in 2023.  The company recently announced plans to be one of the top 10 restaurant brands in the United States and is known for its ONE LOVE® – craveable chicken finger meals – which includes the iconic "Cane's Sauce" – named the #1 most craveable sauce in the restaurant industry and most craveable chicken. For more information visit raisingcanes.com.