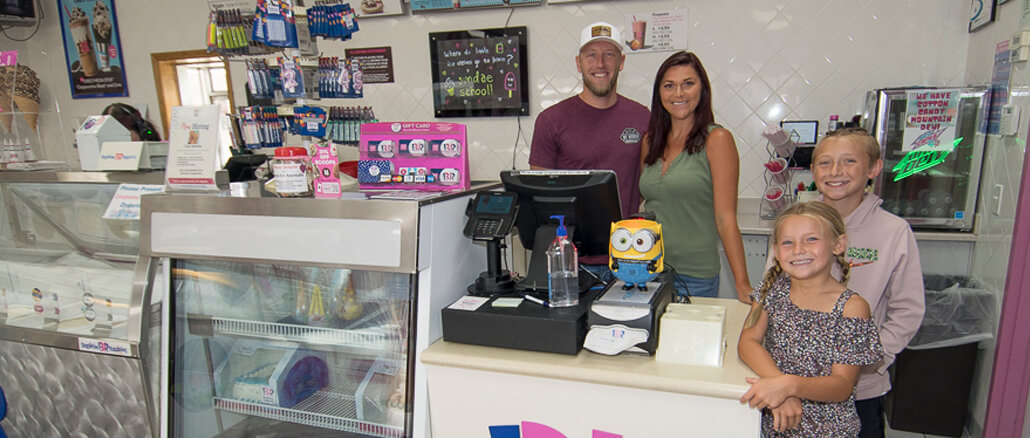 By Stacey A. Shannon—
MUNCIE, IN—Children are notorious for asking their parents for things, but one local little girl's dream came true in the form of a new family business. When Josh Shaffer's daughter learned Baskin Robbins was for sale, she encouraged her parents to buy the business. Shaffer, who is a lifelong resident of Delaware County, said he's always looking for new business opportunities, so he did some research.
 "Once I met with [former owner] Bob Walsh and went over the numbers and talked to him a little bit, it worked out for us to purchase it," Shaffer said. "I'd say it's not what we were panning on doing, but it's something we prayed about and thought about, and God led us this way."
The timing worked well for the Ball State University graduate. With a degree in accounting, Shaffer said he pays attention to the numbers in business. The numbers for Baskin Robbins impressed him.
"Once I saw the books and the numbers, it was kind of surprising to me that this many people like ice cream that much," he said. "And Muncie really supports this business. There were so many other ice-cream places that I was concerned about it. But Baskin Robbins is just different than all the others. It has so many options and flavors. Once I saw the numbers, it made sense."
(The family is interviewed on WMUN 92.5FM/1340AM radio. Listen below.)
Baskin Robbins isn't Shaffer's first business endeavor. He put his accounting degree at work first on his family's farm alongside his father and grandfather. When the family stopped raising hogs and switched to grain farming only a few years ago, Shaffer found himself with more time on his hands. He and his wife, Sarah, who met as students at Monroe Central High School, opened RV and boat storage units in Albany a couple of years ago. By the time the Baskin Robbins opportunity came around, he was ready to expand once again.
One of the challenges the Shaffers have faced is meeting the requirements set by the Baskin Robbins franchise. Shaffer said he had to go to a meeting in Arizona for two weeks right during grain planting season, which was difficult. But he made it work.
 "We've had to fit into Baskin Robbins' guidelines," Shaffer said. "That's been the biggest hurdle we've had here."
For example, he regularly sends photos of the products and business to Baskin Robbins' headquarters to prove they are up to par. He also can only order ice cream and products offered by Baskin Robbins, which means sometimes flavors stop being available.
But the family has settled well into the new business. Shaffer's mother-in-law manages the business, which retained the same employees from the previous owner. Shaffer, his wife and children also are often in Baskin Robbins and working hard.
"We are hands-on owners," Shaffer said. "We're here all the time."
The family's transition into ownership has gone smoothly thanks to the employees on staff making it easy. However, Shaffer has made some changes. For example, he has doubled the number of staff to cut down on wait times and has had positive feedback as a result.
"We're staffed well enough that even if there is a long line, we get you in, we get you out," Shaffer said. "You get your stuff quick."
He and his staff also closely monitor the quality of their products. The ice cream cakes, for example, are only kept in the freezer for two weeks to remain fresh. Having only one cake decorator on staff keeps the cakes and their designs consistent as well, which has pleased customers.
Shaffer looks forward to many more years in the ice-cream business. He said the store will have a complete remodel in about four years, but smaller updates have already been made and will continue. He also plans to remain a family-run business and said Baskin Robbins will provide great first job experiences for his own children when they are older.
"We're a family-oriented business," Shaffer said.